Paradox house alarms from 404 €
Aegis Systems experts recommend Paradox wired alarms for the security of your space.
The Paradox Home Alarm (With Paradox Central Unit and Keyboard) includes the following materials:
1x Central unit SP 6000, 1x Keyboard K32, 3x motion detectors10x magnetic contacts, 1x Internal siren, 1x External siren, 2x Batteries (unit + siren), transformer and canister for the unit.
Price of materials package
404€ + VAT
The price refers to the materials included in the proposed alarm package with central unit and Paradox keyboard. The package is ideal for covering a house up to 90sqm.
Ask us about the installation in your space
The installation includes the work, the programming and the demonstration of the operation of the security system. Provide security in your space with the guarantee of Aegis Systems.
Gift 6 months connection
in a Signal Reception Center
With each installation of a new security system, we give you a gift for 6 months at the Signal Reception Center
Ask for
your own offer
by Aegis Systems
The Paradox alarm includes:
SP6000 alarm panel with 8 or 16 with dual zones, with canister and transformer
32-zone keyboard with LED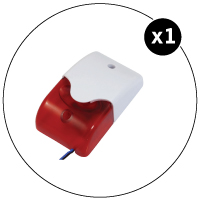 Capacity Siren Battery (2.3AH)
Magnetic contacts (traps) with a strong magnet

Excellent protection against lightning, surges
Ability to communicate with a Signal Reception Center
A mobile application as well as a controller can be added